April 21, 2015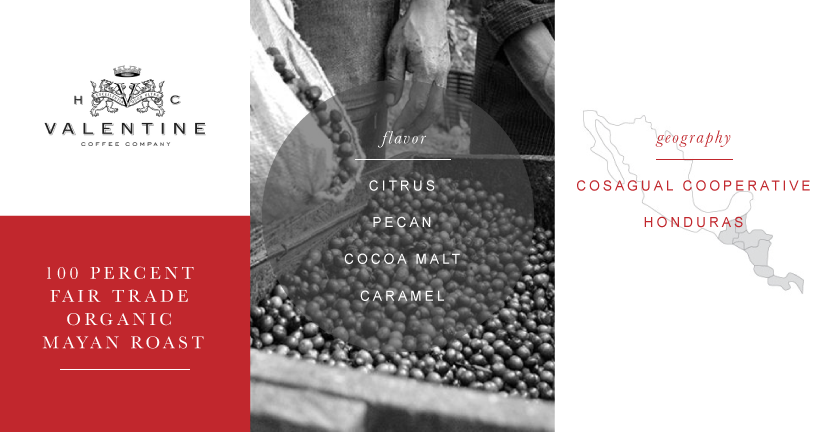 Our 15 core coffees are artfully blended to craft a flavor profile that uniquely showcases the specific flavor notes that originate while the beans are grown and emerge during the roasting process. Our Roastmasters blend each coffee after the beans have been roasted to create a taste profile that is balanced, richly flavorful and unique. Join us as we dive deeper into each of our 15 core blends, highlighting the growing region, analyzing its flavors and providing ideal pairings. In honor of Earth Day, we explore our 100 Percent Fair Trade Organic Mayan Roast.
GEOGRAPHY
Our Mayan Roast is a single-origin coffee, with all of its beans harvested from the Cosagual Cooperative based in the western mountains of Honduras. The cooperative was established in 1994 with the goal of producing high-quality coffee and elevating the living standards for its more than 130 members. The cooperative members give back to their local community, investing 30 percent of their Fair Trade premium on social programs, including scholarships, medical donations and community investments.
FLAVOR
The Mayan Roast blend has a medium-to-full body with citrus, pecan, cocoa-malt and caramel flavors that present best in a medium-to-light roast. Because of the smooth, balanced flavor of the Honduran coffee beans, this blend brews well as a varietal coffee, coffee blend or espresso blend.
PAIRING
This blend is perfect for your around-the-clock brew. It pairs well with everything from breakfast sandwiches to lunch desserts.
The Mayan Roast was one of our first blends when H.C. Valentine began roasting in 2008, and has continued to be a customer favorite over the years. As a double-certified coffee, the Mayan Roast's fair trade and organic certifications allow its growers and roasters to ensure sustainable coffee practices for years to come.