June 25, 2015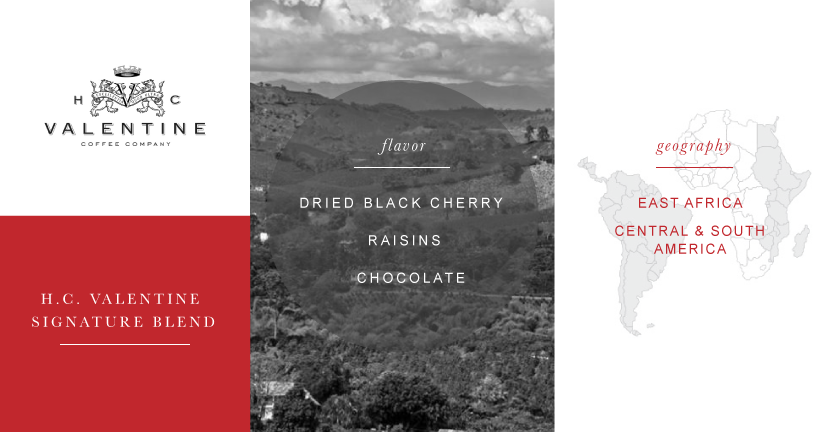 Our 15 core coffees are artfully blended to craft a flavor profile that uniquely showcases the specific flavor notes that originate while the beans are grown and emerge during the roasting process. Our Roastmasters blend each coffee after the beans have been roasted to create a taste profile that is balanced, richly flavorful and unique. Join us as we dive deeper into each of our 15 core blends, highlighting the growing region, analyzing its flavors and providing ideal pairings. Today we highlight our H.C. Valentine Signature Blend, a complex, dark-roasted blend which highlights beans from across the world.
GEOGRAPHY
Our dedicated network of growers harvests the beans for the H.C. Valentine Signature Blend from the best coffee growing regions in East Africa, Central America and South America. From the citrus notes in East African beans to the subtle sweetness of South American beans, each region produces unique flavor profiles that we fuse together to craft a blend that takes your taste buds on a journey across multiple continents.
FLAVOR
The H.C. Valentine Signature Blend coffee has a full, rich body with hints of dried black cherry, raisins and chocolate. The coffee is roasted dark to accentuate the premium coffee beans, resulting in the highest quality medley of flavors.
To perfectly pair this wide variety of beans, we use a roasting and blending process that is complex and ensures that we capture a blend that is full and balanced. We first roast our beans to draw out the flavor profile and examine each flavor note. We then expertly blend the beans together to ensure each note and undertone is distinct, pleasurable and unwaveringly memorable. Our method is not the standard; it is more complicated and time-consuming.
PAIRING
The fruity notes and rich body make this coffee easy to pair with your favorite chocolate and fruity desserts like dark chocolate pastries, blackberry pie and fruit tarts.
At H.C. Valentine, we hold ourselves to the highest standard of excellence in each blend. This belief especially holds true as we roast our namesake blend. Brew a cup and we hope you'll see our ongoing commitment to excellence in every drop.